Shane Bacon and I had scheduled to talk this week about the British Open — aka the Open Championship — for several reasons. First, Bacon habitually comes on to preview big golf events. But in this case, the second reason is the best: Bacon caddied at St. Andrews for an entire summer. If anyone knows the course, it's Shane.
We go almost hole-by-hole to talk about what some of the players will have to deal with this weekend. Go to OpenGolf.com to follow along with the conversation.
We get talking about some of the favorites, namely Tiger Woods, and bring up Jay Busbee's column on Devil Ball Golf about the chances of Tiger Woods winning this even. So why not conference Busbee in!
The rest of the show is a pretty good breakdown of who will do well and who could struggle on a course like St. Andrews. Both the Yahoo guys think Justin Rose could win the tournament. If you've followed Bacon's track record of picks on our show, expect Rose to miss the cut.
Thanks to both of them for hopping on. Thanks to you for listening.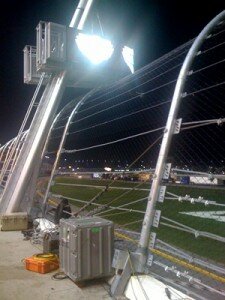 Jay Busbee from Yahoo's From the Marbles joins the show – from the track – to talk about the Daytona 500 and the week in NASCAR. We end up talking a lot more about potholes than I ever expected.
Was is just a string of bad luck, or was there something NASCAR could have done about the giant holes in the track that held the race up for nearly three hours? And while we're all making Pothole 500 jokes this morning, is there something more serious about the issue. Jimmie Johnson was interviewed after the race and mentioned that when his tire went over the pothole, it was never the same, intimating that he was bounced from the race early because the track screwed with his car.